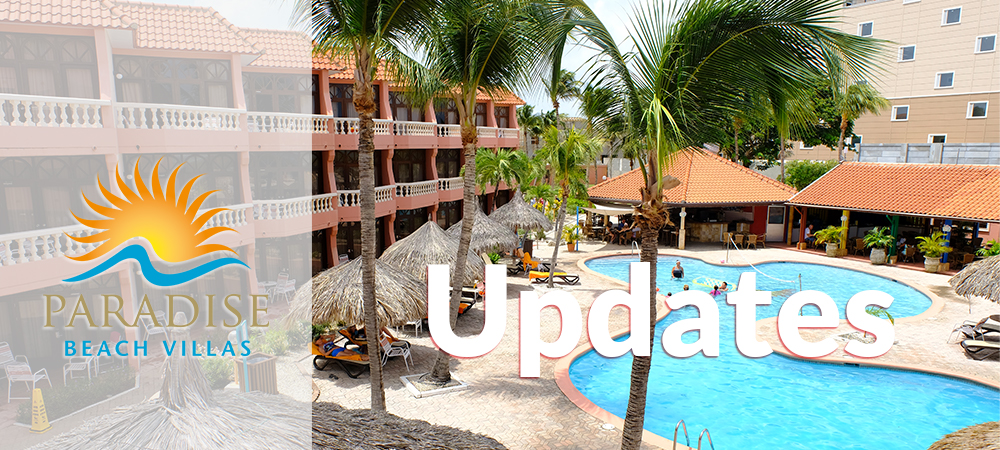 Dear members,
As you may have heard, travel from the USA to Aruba is slated to commence on July 10th 2020 and in light of the impact and changes caused by the novel COVID-19, we are now more focused on the health and safety of all our guests and employees, without compromising the quality of the experience that you have come to expect. Consequently, as things rapidly evolve, we have heightened the standards for hygiene and cleanliness in our efforts to reduce exposure to and transmission of COVID-19. Our protocols and procedures are in line with the guidelines established by the World Health Organization (WHO) and local Health Authorities which target personal hygiene, safe food and social distancing practices.
While "Happiness" continues to be the dominant theme of our island, in keeping with Industry lodging standards, Aruba joins the rest of the world in instituting specific regulations for ALL establishments and has added "Health" to the broader spectrum of the holiday experience. Resorts that fully comply with these regulations will be awarded a seal of approval – aptly called the Health & Happiness Code. Paradise Beach Villas shares this commitment and below are the main changes you will experience at the Resort in compliance with these directives. We ask you to play your part by following the policies that have been established for your own well-being and that of fellow members and staff.
Social distancing – maintaining at least a 6 ft. space between persons – is enforced island-wide.
Connected with this, we know that we all enjoy a nice, warm hug and kiss as a greeting whenever we meet and, in the present circumstances, the temptation will be even greater when we see each other again. However, bearing in mind the social distancing protocol, we have established this special "Paradise hug" – see below – as our new greeting until we can physically hug each other again.

You will notice the adjustment of operational procedures aimed at minimizing contact to prevent the possible spread of the virus.
More aggressive cleaning procedures in high touch areas throughout the Resort and changed cleaning practices in the suites. Hand sanitizers are available in the public areas and you are requested to make use of them and / or wash your hands properly and often.
The weekly members' meeting and the weekly members' get-together are both cancelled until further notice. Management will be available on a daily basis in the lobby to share updates and provide answers to any queries you may have.
FRONT DESK
Prior to arrival, we will contact you to let us know if you will be coming and if so, for pre-check to reduce the length of time and interactions at check in. We encourage you to take a few minutes to pre-check which will save you time on arrival at the Resort.
Check-in time is now at 5 p.m. and check-out is at 10 a.m. to allow for Housekeeping to properly service and sanitize the units between occupants. It is also anticipated that as a result of the more protocols and checks, additional time will be needed at the airport prior to departure.
The preferred method of payment is by credit card instead of cash.
The way we plan to deal with luggage – both on arrival and departure – will change so it is physically handled less frequently. You are advised to secure your luggage as the Resort will not be liable for any items reported missing.
FOOD AND BEVERAGE
Tables will be more spread out and the menu has been revised. Take out, room service is available and dining around the pool is encouraged.
The Tiki Bar will be open for service to persons seated at adjoining tables and around the pool-deck – and not at the Bar.
You will be required to sign in at the Tiki Restaurant so we have a trace in case this becomes necessary in the future.
The preferred method of payment is by credit card or room charges instead of cash However, this is a reminder that there are no room charges on the day of departure.
HOUSEKEEPING
Rooms will be serviced three (3) times weekly consisting of making up beds, replacement of towels, soap and tissues plus garbage removal. Please call the Front Desk when you will be out of your unit and Housekeeping will schedule service during that time.
PUBLIC AREAS – where social distancing practices should continue.
Use of elevators are restricted to 2 persons sharing the same room.
Only persons occupying the same room only are allowed together under the palapas poolside and at the beach.
Access to the Gym will be done by contacting the Front Desk and Security will be contacted to let you in. Two (2) persons are allowed at any one time for a time limit of ½ hour. Please wash your hands prior to and wipe down the machines before and after your workout.
Until further notice, Lee's Lounge will be closed for the swap library and shared table games.
As it relates to redemption of weeks affected by the travel restrictions, with an opening date being finally established, we are diligently working to get a precise assessment on what we are faced with so we can make a determination as to how best to proceed. At the moment we are looking at close to 2000 weeks – including our prior commitments – compared to the number of weeks we have available. We will continue to work on this and have a response with the available options and get them to you shortly. We appreciate and ask for your continued patience as we work our way through this process.
The annual Shareholders' meeting this year will be held as scheduled on August 18th 2020.
Meanwhile, please visit our website www.paradisebeachvillas-aruba.com for regular updates as the situation unfolds and a reminder that it is critically important for you to familiarize yourself with health requirements for entry into Aruba.
As we embrace digital communication wherever possible, we recognize that we are still in the business of Hospitality – and people – and will make every effort to preserve this aspect of our operations. So we thank you in advance for your understanding in these unusual circumstances which have and will continue to transform the reality as we knew it.