March 2019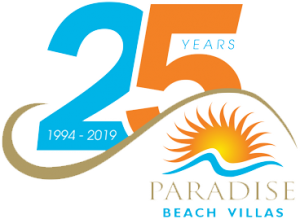 Dear Members
Trust the New Year has started in a positive fashion and we are happy to update you on the highlights at the Resort.
Plans continue with regard to this year's 25th anniversary celebration (we commenced operations under the present Management on July 4th 1994) and we will alert you when they become more concrete. A huge Thank you for your support over the years and we look forward to you visiting to your Caribbean paradise many more times in the future.
Please check and use the Paradise Beach Villas calendar for your travel dates. Believe it or not we still have members who arrive at the Resort in their wrong week. While we have been able to accommodate them up to now, this is no guarantee so please check to avoid disappointment and possible additional costs.
On October 26th, 2018 we christened the uniforms for our adopted baseball team and in the beginning of January 2019 members Le Mont Flanagan and Gary Caruso brought down and donated equipment and "T" shirts to the team which consists of a mix of some kids from last year and new kids.
We now have two teams as some of the older kids now are in the 13-14 group. We wish them Good Luck in their games and thank our loyal members who contribute to this noble cause!
| | |
| --- | --- |
| | |
The Minister of Infrastructure and Planning has imposed a moratorium on accommodation expansion until he and his team have been able to assess each project individually. Consequently, plans for Phase 3 have been put on hold until further notice.
It is our pleasure to introduce you to our new Maintenance Manager Leroy Wong.
who started on March 5th 2019.  He is  graduate of the Bushiri Hotel School and his work experience spans overseas stints, the Coastal / Valero refinery locally and most recently, he was a Technical Engineering Supervisor at the Marriott Ocean Club. We warmly welcome Leroy and wish him all the best as he joins our Management team.
The Aruban Government continues its drive to make the island more "environmentally conscious" and has mandated phasing out single-use plastic and Styrofoam products in exchange for biodegradable products which are less harmful to the environment. Consequently, in many establishments around the island you will notice a reduction in things like plastic straws and stirrers and more environmentally friendly take-way boxes, coffee cups etc.  We applaud the Government for this effort to introduce initiatives to halt the destruction of our environment.
We thought we should reminder you that check in time is at 4 p.m. and check out time is at 11 a.m. Housekeeping has a system of priorities which start with the internal room moves. Of course if your room is available earlier we will assign it on arrival but we ask you please to desist from the habit of going on the floors and pressuring / harassing the housekeeping staff into disrupting their routine just to service your room which we notice is slowly creeping into the operation. We understand that you want to get settled as quickly as possible – and so do we – but please adhere to the check in times.
As promised, WiFi at the Resort is now free effective January 2019. However, it is password protected so it is only available for resident occupants or bona fide patrons of the Resort – e.g. non-resident food and beverage clients.
Please note the Public Holidays for the rest of the year since, although some supermarkets may have very limited opening hours and stores and most shopping venues will be closed for the day. Therefore, please plan accordingly.

Good Friday                       April 19
Easter Sunday                     April 21
Easter Monday                     April 22
King's Day                        April 27
Labor Day                         May 1
Ascension Day                     May 30
Christmas Day                     December 25
Boxing Day                        December 26

We are delighted to announce the planned launch of the Happy Community Aruba Along with the involvement of our sister Timeshare Resorts, this plan financially assists the needy in our community via voluntary donations which you can make either from a kiosk in the lobby (using your credit card) or you can agree to a sum to be added to your incidental account at the Resort. The project is still in the developmental stages and we will update you as plans become more concrete. Sincere thanks in advance for whatever you can contribute to this most worthy cause.
Related to our community outreach efforts, we also thank you for participating in the "Sharing Is Caring" programme of donations of non-perishable items which are collected every two weeks and distributed to the less fortunate in the community.  Masha danki!
As the needs of our aging members get more diverse, we advise you of the service offered by Essential Health Supplies, a Company which rents supplies like – crutches, toilet accessories, scooters, wheelchairs and much more – to visitors. They are located across from the Hospital which is close to the Resort, they are available on weekends and they offer complimentary delivery on any rentals. For further details, you can visit their website at essentialaruba.com,  email them at

[email protected]

or call them at (297) 587 0940 or (297) 563 0415.  Listed on their website, for the convenience of our American members, they also have a US contact number at (786) 245 8093.
We have increased entertainment and at the Tiki Tiki Bar, where, every Friday from 5.30 p.m. to 8.00 p.m. we feature Happy Hour with special prices on beer and cocktails, live music and grilled hamburgers and hotdogs. Come and chill with us!
Once again the entire Paradise crew express a heart-felt Masha, masha danki to the Winners, Stanbro and Schow families who, for the third consecutive year did a BBQ cook-out for all the employees. The gentlemen cooked and the ladies served a sumptuous meal which consisted of chicken, hotdogs, macaroni salad, a Greek green salad and dessert. The additional surprise this year was a scratch and win lottery ticket for each employee with the possibility of winning Afls 5000. This was their beautifully unique way of expressing their gratitude to the employees for their hard work and it was very well appreciated. Thank you ever so much!! Gestures like this make our work worthwhile and we eagerly look forward to next year.
| | |
| --- | --- |
| | |
Please let us know if you will be using your week.  You have the options of – banking it with the Resort, banking it with Interval International or placing it in the rental programme which can benefit you financially and at the same time fulfill the accommodation need of another member.   Internally we can also do some preventative maintenance in the suite …. So PLEASE advise us.
It has been a pleasure to update you on the most recent happenings and we look forward to seeing you at the Resort on your next visit.