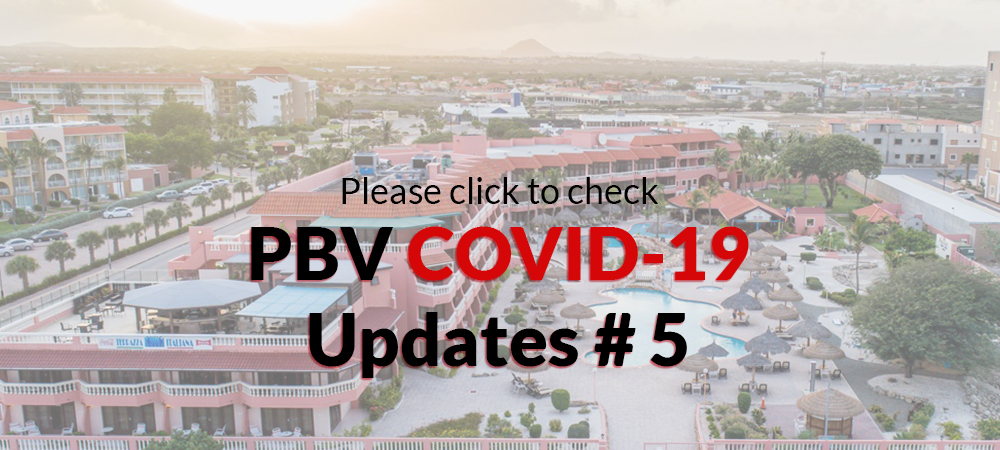 The entire Leisure industry – traveling public and related organizations – is tentatively venturing into a whole new world which is governed by several protocols to ensure the safety of the destination and the people – the travelers, Resort staff and any other personal contact.
While "Happiness" continues to be the dominant theme of our island, in keeping with International and Industry standards, Aruba joins the rest of the world in establishing specific regulations for ALL establishments – including the accommodation sector – which adds "Health" to the broader spectrum of the holiday experience. Resorts that fully comply with these regulations will be awarded a seal of approval – aptly called the Health & Happiness Code. Paradise Beach Villas shares this commitment and below are the main changes in compliance with these directives. We ask you to play your part by following the policies that have been established for your own wellbeing and that of fellow members and staff.
Social distancing – maintaining at least a 6 ft. space between persons – is enforced island-wide.
You will notice the adjustment of operational procedures aimed at minimizing contact to prevent the possible spread of the virus.
More aggressive cleaning procedures in high touch areas throughout the Resort and changed cleaning practices in the suites. Hand sanitizers are available in the public areas and you are requested to make use of them and / or wash your hands properly and often.
FRONT DESK
Prior to arrival, we will contact you to let us know if you will be coming and if so, for pre-registration to reduce the length of time and interactions at check in.
Check-in time is now at 5 p.m. and check-out is at 10 a.m. to allow for Housekeeping to properly service and sanitize the units between occupants. It is also anticipated that as a result of the more protocols and checks, additional time will be needed at the airport prior to departure.
The preferred method of payment is by credit card instead of cash.
FOOD AND BEVERAGE
Tables will be more spread out and the menu has been revised. Take out, room service is available and dining around the pool is encouraged.
You will be required to sign in so we have a trace in case this becomes necessary in the future.
The preferred method of payment is by credit card or room charges instead of cash.
HOUSEKEEPING
Rooms will be service three (3) times weekly consisting of replacement of towels, soap and tissues plus garbage removal. Please call the Front Desk when you will be out of your unit and Housekeeping will schedule service during that time.
PUBLIC AREAS – where social distancing practices should continue.
Use of elevators are restricted to 2 persons sharing the same room at a time
Only persons occupying the same room only are allowed together under the palapas poolside and at the beach
Access to the Gym will be done by contacting the Front Desk and Security will be contacted to let you in. Two (2) persons are allowed at any one time for a time limit of ½ hour. Please wash your hands prior to and wipe down the machines before and after your workout.
---
Here is part of the latest Press Conference delivered by the Prime Minister and the Department of Health on June 1st 2020.
Prime Minister:
On Monday, June 8th, Kindergarten and Elementary schools are allowed to fully open;
Protocols are being finalized so all sectors can be in compliance;
Official date for the reopening of the border has not been made yet, and will be announced when appropriate. Government is making sure protocols are in place to ensure a responsible decision;
There is no guarantee that there will not be new positive cases. Therefore the Government needs to carefully determine next steps;
Community is urged to be disciplined with the physical distancing and hygiene measures, to lower risk for Aruba.
Department of Health:
All advice received, including from The Netherlands Health Dept, is that it is safe for kids to return to school;
The risk for imported cases is present once our border opens, both from visitors as well as residents that will travel. Entry protocols will apply to both;
Residents that choose to travel need to take responsibility for their safety;
Aruba is better prepared now to handle cases after border opens. There are measures that DVG (Department of Health) can recommend to the Government prior to requiring a second lockdown.
Continue to stay as healthy and as safe as you can in the circumstances and we will keep you posted as the situation unfolds.